Guatemala's most well known national park, a UNESCO world heritage listed site, is the Tikal national park which is visited both for its Mayan ruins and its spectacular tropical rainforest.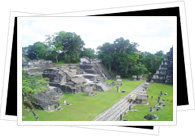 Tikal national park is situated on the edge of the Maya biosphere and was the first national park in Central America.
Laguna Lachua National Park is home to 50 percent of the country's mammal species and 40 percent of the bird species. It is also listed as a RAMSAR* wetland of international importance.
Nearly 20 different ecosystems are sustained in Guatemala.
* RAMSAR is an intergovernmental treaty whose member countries commit to 'maintaining the ecological character of their wetlands of international importance'. The name Ramsar refers to the town where the treaty was signed in Iran.