Peru is probably better known as being the land of the Incas than being one of the most megadiverse countries in the world and number two for the most avian species found there.
Over 14 percent of the country is preserved area in the form of national parks, wildlife refuges and protected forest, etc.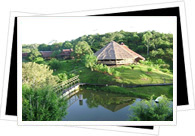 Peru's largest protected area is the Pacaya Samiria National Reserve spanning 2 percent of Peru's land and containing a diverse range of fauna and flora, including some that are on the verge of extinction.
The Guano Islands and Capes National Reserve, within the Humboldt Current, was pronounced in December 2009 to protect 22 islands, 11 capes and their marine species.