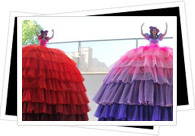 Since the end of the Pinochet regime, Chile has seen a vibrant return to the theatre.
Nowadays the Chile theatre scene offers dozens of shows each week with pieces to suit everyone - drama, comedy, Shakespeare and even teatro infantil (children's theatre).
Capital city, Santiago, is where the heart of Chile's theatre is and each summer the city hosts the Festival Internacional Santiago a Mil a festival of street drama.
From the 19th Century
Many of Chile's theatres date back to the 19th century and Santiago's Municipal Theatre is no exception. It was inaugurated in 1857 and then again in 1873 as it was burned down in 1870. A century later in 1974, the French neo-classical style building was declared a national monument.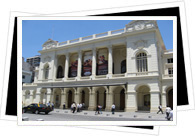 At the end of the 19th century, chile theatre was for the rich and upper classes. The early 20th century saw the development of the middle classes and foreign countries influenced Chile and its theatre.
1913 saw the formation of the National Drama Company (Companía Dramática Nacional) and 1917 the Chile's first theatre company. The Teatro Experimental was the Chile university's experimental theatre which established in 1941 brought new life into the same plays which had been seen over again.
Chilean theatre continued to develop until 1973 when Pinochet took power of the Chilean government. Art and culture was silenced by the regime and many theatres closed their doors.
Since democracy returned, Chile's theatres have been booming. Nowadays theatres offer many concerts in addition to drama pieces, rather than musical theatre. There are around 20 theatre companies and several quality theatres which all boast full audiences whether the theatre be in Santiago, Viña de Mar, Temuco or Punta Arenas.