Peru received its first exhibition of moving images on 2nd January, 1897.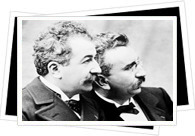 Edison's vitascope was first, followed by the Lumière brothers' cinematograph the following month.
The first Peruvian movie viewers were the then President, Nicolás de Piérola, along with rich guests and important people of that time.
Belated Beginnings
Cinema was slow to develop in Peru. Other countries had produced a significant number of cinematic works before Peru released its first rudimentary offerings.
From the first viewing, cinema in Peru was the entertainment of the rich. Early Peru movies were shot on site at rich estates or mansions and reflected the lifestyle and interests of the borgeouis. It took nearly a decade before film halls were segregated to allow the general public a place to enjoy the entertainment too.
Production remained slow until the 1930's, with the economic world crisis of 1929 taking its toll. 1929 was also the year that Peru first heard sound in the movies.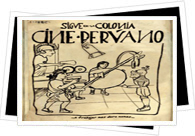 The first Peru 'talkie' was Resaca (hangover), released in 1934. The introduction of sound was a breakthrough in terms of Peru movie content as stereotypes stopped being used and true Peruvian domestic life began to be reflected in subsequent productions. Feature length Peru movies started being made from 1937.
Although World War II brought Peru movie production to an almost stand still, the Peruvian government established legal requirements for both film production and screenings.
Production of movies in Peru resumed but the industry is not noted as producing anything special until 1961 when the Cine Club de Cuzco released a feature film in the Quechua native language. The Peru film received recognition both at home and internationally.
The distribution and availability of Latin television during the 1960's again halted Peru movie production and it was the following decade when Peru movies came into their own. Many short films were produced as Peru promoted its own works prior to showings of international films.
Technological Forefront
The 21st century has seen Peru rising to the forefront of digital techniques in film to create spectacular movies whilst working with low budgets.
As finance has always been limited, Peruvian moviemakers were quick to use new technologies to their advantage. Peru was the first country in Latin America, following in the footsteps of the United States and Asia, to produce a 3-D animated film, Pirates en el Callao, in 2005. This was followed up by the next 3-D offering just a year later.
Peru movie director, Claudia Llosa continued the trend of firsts, receiving Peru's first oscar nomination for the film La Teta Asustada (The Milk of Sorrow), which won the coveted golden bear award at the 2009 Berlin film festival.