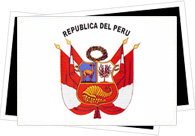 All 3 branches of the Peru government are located in Lima, capital city of Peru.
They are the executive, legislative and judicial branches.
The province of Lima does not belong to any of the 25 regions, hence it runs as its own administrative division with the same functions as the regional governments.
Peru has been under military rule and dictatorships for much of its turbulent governmental history. A short break from dictatorship came in 1945 and lasted until 1948 when Manuel Arturo Odría Amoretti took over the country after leading a military coup.
Democratic leadership was instilled in 1980, lasting a decade until Alberto Fujimori won the elections in 1990. In control of the Peruvian government, he saw terrororism, corruption, drug trafficking, censorship and had the constitution suspended.
Fujimori was reelected and continued running Peru until 2000, resigning 6 months after the May elections during a trip to Japan and being declared morally unfit by congress. Following a 16 month televised trial, in 2009, Fujimori was sentenced to 25 years imprisonment for human rights abuse.
The 2006 elections were the first ones in which military personnel were able to vote and Alan García Pérez was reelected, having been President from 1985-1990.

Government Type
Constitutional Republic
Administration Divisions
25 regions and 1 province
Voting Rights
Compulsory from age 18 to 70
Chief of State
Alan García Pérez has been President and Head of Government since 28 July 2006
Javier Valasquez Quesquen has been Prime Minister since 12 July 2009 but the position does not hold executive power
Political Parties
Peruvian Aprista Party (PAP)*
Alliance For Progress
Alliance For The Future (AF)
Central Front (FC)
National Renovation Party
National Restoration Party (RN)
National Solidarity Party (SN)
Peru Possible (PP)
Peruvian Nationalist Party (PNP)
Popular Christian Party (PP)
Union for Peru (UPP)
Cabinet
President appoints Council of Ministers
Congress
Congress members (120 seats) elected by popular vote for 5 year term
* The party's original name was Alianza Popular Revolucionaria Americana (APRA) and is often still referred to as such.