The theatre is big business in Costa Rica.
It is believed that there are a higher percentage of theatre companies there for the population size, than in any other country.
The history of Costa Rica theatre is relatively short as there is no record of performance art in the country during colonial times.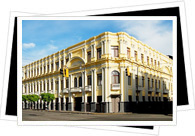 The oldest theatre in Costa Rica and one of the most famous is the Melico Salazar which was built in 1799. Destroyed by an earthquake in 1828, it was rebuilt in stone.
The second of the two most famous theatres in Costa Rica was completed in 1897 and built to withstand earthquakes. The Theater Nacional was declared a national monument in 1965.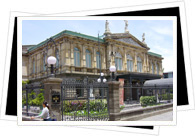 Costa Rica's theatre industry went into decline in the 1920's as the cinema took up their audiences but began a comeback in 1950 as several new companies were formed along with the Teatro Universitario (Universtity Theatre) and the next 2 decades proved to be productive for the theatre.
Modern day San José offers every type of theatre option to the Tico's and visitors to Costa Rica - from puppet shows to mime and comedy to drama. Most performances are in Spanish, but some can be found in English.