Mexico is Latin America's runner up to Argentina for gay visitors.
In 1781 homosexuality was decriminalized in Mexico but it is only the last years which have seen the rights of gay and lesbian couples recognized in the country.
2006 saw the law recognize same sex civil unions in Mexico City, which became effective in March 2007 and a similar bill was passed in the state of Coahuila in January 2007.
Further Changes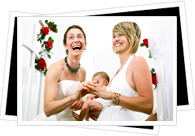 A law allowing gay Mexicans to marry in Mexico City came into effect in March 2010 and five gay and lesbian couples tied the knot on March 11.
Gay Mexico tourism focuses around the capital city of Mexico City, although there are gay communities in other regions and cities too.
The Latin American machismo culture has been fuel to same sex couples receiving notably rude or violent treatment, but the gay communities have been standing up for their friends and been ensuring that anti-discrimination laws are respected.
Mexico's Gay pride is an annual event which takes place in June. It has been running in Mexico City since 1979 and in Guadalajara since 1996, the country's two biggest gay pride marches.
The Pink Heart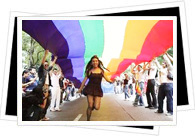 The Zona Rosa, given its name for the pink cobblestones, is the heart of lesbian and gay Mexico city. Amberes street provides the location for a coffee with international gay friends in the day and at night the chance to enjoy a drink, a show or dancing. Cabare-Titos is great for a camp show or you can try one of the dance clubs that rival the gay Berlin clubs.
Another gay Mexico place to visit is Puerto Vallarta. It's a laid back resort that is just as welcoming to young families as gay friends, whether you are Mexican, European or from anywhere else. Days can be spent lazing on the beaches and there is a great selection of clubs too, which often stay open past closing time, with drag shows and flirting galore.
Gay friendly accommodation is not so commonplace in Mexico as it seems at first glance, as many hotels promote their gay-friendliness but are actually open to any and all members of the public. However, there are a number of gay owned hotels and gay travel agencies that specialize in offering an intimate atmosphere to their lesbian and gay guests.