The freedom of the press is not a notion recognized throughout Latin America in the same way as other countries.
Turbulent histories and dictatorships in many countries have meant that it is only in recent years that much of the Latin press has had the opportunity to start growing and developing to the level of its global counterparts.
Freedom and Propaganda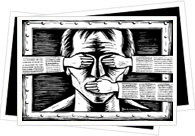 Whilst some countries have media freedom, the Latin press in other countries is censored at the highest level and very often reflects government propaganda.
For many Latin American journalists working in the Latin press, choosing the wrong story or taking the 'wrong side' can result in violent personal attacks or worse.
With the exception of Cuba, the freedom of the Latin press is granted throughout Latin America and in some cases guaranteed by the country's constitution. Despite this, in many countries, the Latin press does not cover sensitive issues such as religion, diverse or subvert political points of view or exposé's of corruption or illegal trafficking.
Whilst Argentina and Costa Rica's press thrive, in Cuba, Guatemala, Mexico and Peru, journalists can regularly come under attack. In Chile, the freedom of the Latin press is something which some authorities have found difficult to accept, but the restrictions of the Chilean government in the Pinochet era are becoming a distant memory.