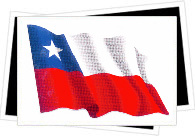 The national flag of Chile has been flying since 1817, the year before the country achieved its independence from Spain.
The white part of the Chile flag represents the snowy Andes mountains. The red part represents the blood spilled whilst fighting for freedom. The blue behind the star represents the sky and the single five pointed star is a symbol of honour and some say a symbol of the Government of Chile.
The flag of Chile is sometimes called La Estrella Solitaria, or the Lone Star as it translates to in English.
Independence day or Chile flag day is celebrated on September 18 each year.