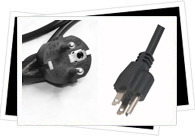 In Latin America, electricity, voltages for electrical appliances and the electrical plugs sockets are different.
They are in most cases different to your home country and within Latin America different countries use different pin sockets.
So, if you are planning a journey to Latin America and incorporating many countries into your itinerary, you need to be prepared in advance or to travel without your electric toothbrush.
Latin America electricity, voltage and plug sockets are as follows:
Argentina 220V, 50Hz, C and I sockets
Bolivia 230V, 50Hz, A and C sockets
Chile 220V, 50Hz, C and L sockets
Costa Rica 120V, 60Hz, A and B sockets
Cuba 110V and 220V, 60Hz, A, B, C and L sockets
Dominican Republic 120V, 60Hz, A and B sockets
Ecuador 110V, 60Hz, A and B sockets
Guatemala 120V, 60Hz, A, B, G and I sockets
Mexico 127V, 60Hz, A socket
Peru 220V, 60Hz, A, B and C sockets
A type A plug socket is typically also used in the USA and Japan. Type A plugs can also be used in type B electrical plug sockets.
A type C plug socket is the two hole standard throughout the majority of Europe which also fits in a type L electrical socket.
Type G is the typical UK electrical plug socket.
Finally, type I is the Australasian standard 3 flat pins and the type L socket has three round pins, as in Italy.
Most plug adapters can be purchased at travel shops, department stores and at airports.