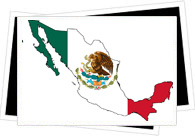 Throughout the 1800's, Mexico saw governments lasting an average of 9 months.
Dictators, Presidents, Emperors and more all took their short turn in running the country.
From 1910 until 2000 the Institutional Revolutionary Party (previously called National Revolutionary Party) controlled the country. The new century saw the National Action Party elected in.
Nowadays the President is elected for a single 6 year term by popular vote.
Mexico
Government Type
Federal Republic
Administration Divisions
31 states and 1 federal district
Voting Rights
Compulsory from age 18, although not enforced
Chief of State
Felipe de Jesus Calderón Hinojosa has been President and Head of Government since 1 December 2006
Political Parties
National Action Party (PAN)
Convergence for Democracy (CD)
Institutional Revolutionary Party (PRI)
Labor Party (PT)
Mexican Green Ecological Party (PVEM)
New Alliance Party (PNA)
Party of the Democratic Revolution (PRD)
Cabinet
President appoints
Congress
Senate of 128 seats: 96 members and 32 seats allocated as per party's popular vote for 6 year term. Chamber of Deputies of 500 seats: 300 elected by popular vote, 200 allocated as per party's popular vote for 3 year term.