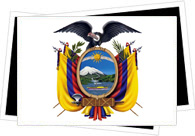 Since its independence Ecuador has seen a number of revolts and dictatorships.
During the first 131 years the country had 48 different Presidents, Conservative unil 1895 and then Radical Liberals.
Although the violence was not like that seen in other Latin American countries, the immense corruption seen at all levels, enabled Lucio Gutiérrez to be elected in 2003, being the 6th President in a period of just 7 years.
The current President, Correa, had a new constitution approved in September 2008 in order to stop the corruption. 64% of the voters approved the new constitution which guaranteed rights to healthcare, clean water and free education through to university level amongst other points.
Ecuador
Government Type
Republic
Administration Divisions
24 provinces
Voting Rights
From age 16. Compulsory for persons aged 18-65, optional outside these ages
Chief of State
Rafael Correa Delgado has been President and Head of Government since 15 January 2007
Political Parties
Alianza PAIS movement
Christian Democratic Union (UDC)
Democratic Left (ID)
Ethical and Democratic Network (RED)
Institutional Renewal and National Action Party (PRIAN)
Pachakutik Plurinational Unity Movement - New Country (MUPP-NP)
Patriotic Society Party (PSP)
Popular Democratic Movement (MPD)
Roldosist Party (PRE)
Social Christian Party (PSC)
Socialist Party - Broad Front (PS-FA)
Cabinet
President appoints
Congress
Unicameral National Assembly (124 seats) elected by party list proportional representation for 4 year term