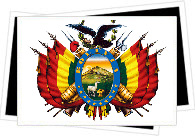 The Bolivian constitution dates to October 2008, when congress agreed the text.
A voting majority of 60% of Bolivians approved the new constitution in January 2009.
The early 21st century has been a new beginning for Bolivia as in the 185 years following Bolivia gaining its independence, there were close to 200 coups and revolutions.
The country's 1967 constitution was revised in 1994 and 2005 saw Bolivia choose their departmental prefects for the first time and voted Bolivia government leader, Juan Evo Morales Ayma (known as Evo), with an immense 53.7% of the country's votes.
Bolivia
Government Type
Social Unitarian State (Republic)
Administration Divisions
9 departments
Voting Rights
Compulsory from age 18 if married. Compulsory from age 21 if single
Chief of State
Juan Evo Morales Ayma has been President and Head of Government since 22 January 2006
Political Parties
Movement Toward Socialism (MAS)
Bolivia-National Convergence (PPB-CN)
Movement of Social Patriotic Union (Muspa)
National Unity (UN)
People (Gente)
People for Liberty and Sovereignty (Pulso)
Social Alliance (AS)
Social Democratic Bolivia (BSD)
Cabinet
President appoints
Congress
Legislative Assembly: Chamber of Senators (36 seats) elected by party list proportional representation for 5 year term. Chamber of Deputies (130 seats) elected for a 5 year term